In the world of culinary delights, there are few dishes as universally loved and versatile as fried rice. It's a canvas upon which flavors from around the world can be painted, and one of the most delightful variations is Indian egg fried rice. This dish marries the rich, aromatic spices of Indian cuisine with the simplicity and comfort of fried rice, creating a meal that's perfect for all occasions. In this comprehensive guide, we'll not only provide you with a mouthwatering egg fried rice recipe but also offer tips and insights to help you master this delightful dish.
Ingredients You'll Need
Before embarking on your culinary journey, it's essential to gather all the necessary ingredients. Here's a detailed list of what you'll need:
For the Egg Mixture:
4 large eggs

Salt and pepper to taste

2 tablespoons of cooking oil for frying
For the Fried Rice:
2 tablespoons of vegetable oil

1 onion, finely chopped

2 cloves of garlic, minced

1-inch piece of ginger, grated

1 cup of mixed vegetables (carrots, peas, bell peppers)

2 tablespoons of soy sauce

1 teaspoon of red chili powder (adjust to your spice preference)

1 teaspoon of cumin powder

1 teaspoon of coriander powder

Fresh cilantro leaves for garnish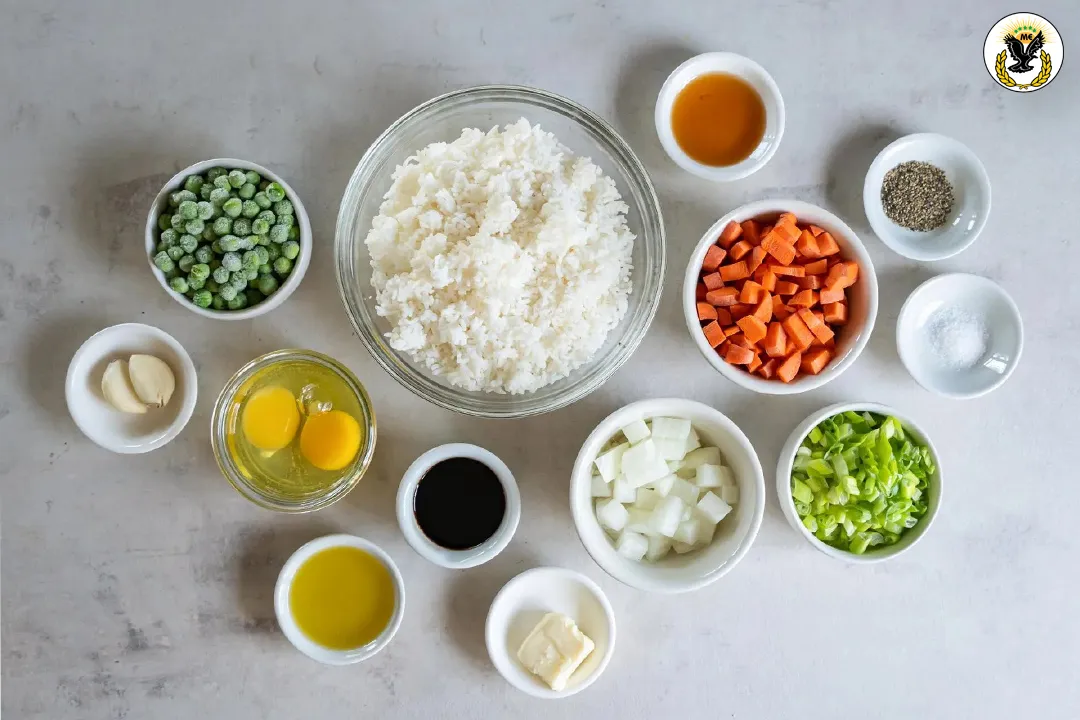 Now that your ingredients are ready let's dive into the cooking process.
Cooking Instructions
Step 1: Cooking the Rice
Begin by rinsing the Basmati rice thoroughly until the water runs clear.

In a large pot, bring water to a boil and add a pinch of salt.

Add the rinsed rice and cook until it's about 80% done. You want the rice to retain a slight firmness.

Drain the rice and set it aside for later use.
Step 2: Preparing the Egg Mixture
In a mixing bowl, crack and whisk the eggs. Season them with a pinch of salt and pepper.

Heat a non-stick pan over medium heat and add 2 tablespoons of cooking oil.

Pour the beaten eggs into the pan, and using a spatula, gently scramble them until they're just cooked. Remove them from the pan and set aside.
Step 3: Making the Fried Rice
In the same pan, add 2 tablespoons of vegetable oil.

Add the finely chopped onions and sauté them until they turn translucent, releasing their sweet aroma.

Stir in the minced garlic and grated ginger, continuing to sauté for about a minute until their fragrances meld.

Now, add the mixed vegetables to the pan. These colourful additions enhance the visual appeal and provide a burst of flavour.

Sprinkle the cumin powder, coriander powder, and red chilli powder over the vegetables. Stir the spices well to coat the vegetables evenly.

Toss in the cooked rice and the scrambled eggs. Gently mix everything to ensure the spices and flavours are evenly distributed.

Drizzle the soy sauce over the mixture, and with your spatula, stir-fry for a few more minutes until all the ingredients are well combined.
Finish your masterpiece by garnishing it with fresh cilantro leaves. The vibrant green adds a lovely contrast to the dish's warm colours.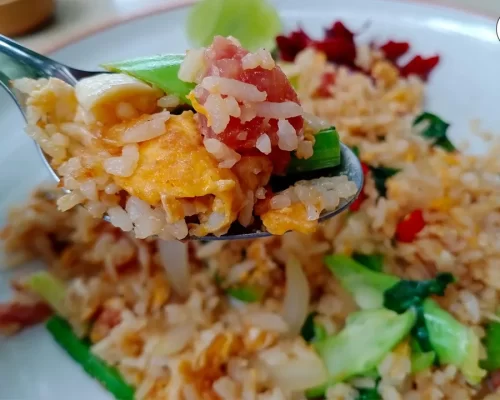 Serving Your Indian Egg Fried Rice
Your Indian egg fried rice is now a culinary masterpiece, ready to be savoured. This dish's harmony of flavours, textures, and aromas is simply delightful. You can serve it hot with a cooling raita or enjoy it as a meal. Either way, it's sure to be a crowd-pleaser and a favourite among family and friends.
Conclusion
Incorporating the rich tapestry of Indian flavours into your fried rice is a culinary adventure worth every bite. This egg fried rice recipe offers a fusion of textures and tastes, making it an ideal dish for various occasions. Whether whipping up a quick weeknight dinner or planning a special celebration, this recipe consistently delivers satisfaction and delight.
Q: Can I use brown rice instead of Basmati for this recipe?
Ans: While Basmati rice is preferred for its aromatic qualities, you can substitute brown rice if you prefer a healthier option. Just note that cooking times and textures may vary.
Q: Can I make this dish vegetarian by omitting the eggs?
Ans: Absolutely! Skip the eggs to create a delectable vegetarian fried rice that retains all the wonderful flavors of this dish.
Q: What are some ideal side dishes to serve with Indian egg fried rice?
Ans: This dish pairs wonderfully with yogurt-based raita, a simple cucumber salad, or even a side of pickles for an extra burst of flavor.
Q: Can I adjust the spice levels to suit my taste?
Ans: Certainly! Feel free to modify the spice levels by increasing or decreasing the amount of red chili powder to match your preferred heat.
Q: Is Indian egg fried rice suitable for meal prepping?
Ans: Absolutely! Indian egg fried rice stored well in the refrigerator for a few days, making it a convenient option for meal prepping and enjoying leftovers.