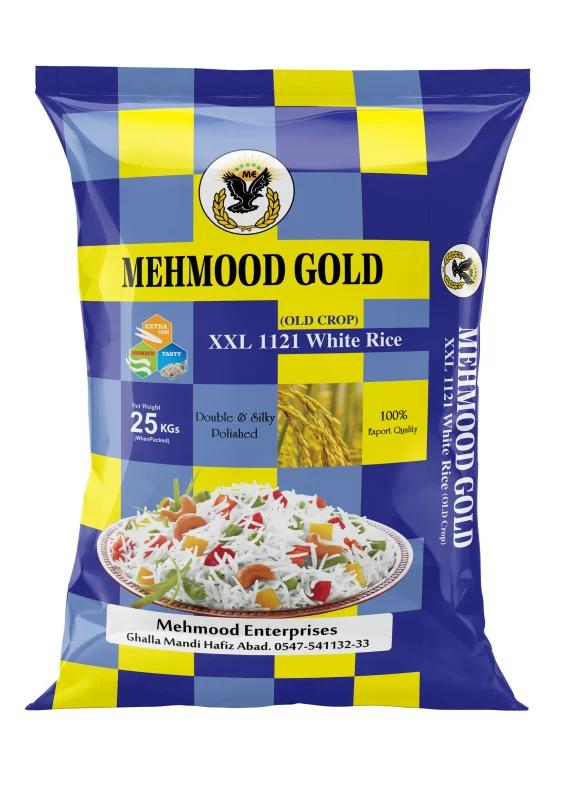 Each grain of Mehmood Gold XXL 1121 Basmati White Rice is long, slender, and pearly white, providing an elegant appearance to your dishes.
As you open the packet, you will be greeted by a delightful fragrance that will captivate your senses. The natural aroma of our basmati rice enhances the overall dining experience, making it a true feast for both the palate and the nose.
Mehmood Enterprises ensures that every grain of Basmati rice meets the highest standards of quality through rigorous quality control measures.
When cooked, this Basmati rice exhibits exceptional elongation, offering a fluffy and light texture that adds to the overall dining experience.
The aged crop brings out a unique and distinct flavor profile in the rice, elevating the taste of your dishes and satisfying your palate.
The rice is carefully aged to enhance its flavor and texture, resulting in a rich and aromatic experience with every bite.
Mehmood Gold XXL 1121 Basmati White Rice is naturally gluten-free and low in fat, making it a healthy choice for individuals and families seeking a balanced diet.
Mehmood Gold XXL 1121 Basmati White Rice is a versatile ingredient suitable for a wide range of recipes, including biryanis, pilafs, stir-fries, and more.
Indulge in the true essence of Basmati rice with Mehmood Gold XXL 1121 Basmati White Rice (Old Crop), delivering an authentic taste and aroma to your meals.
Mehmood Enterprises takes pride in providing customers with top-quality Basmati rice, establishing trust and reliability in the market.
For Orders and Quotation Contact Us
We will answer any questions you may have about our online sales right here. Monday to Thursday from 09:30 to 19:00 UTC +5
Do you have questions about how we can help your company? Send us an email and we'll get in touch shortly.