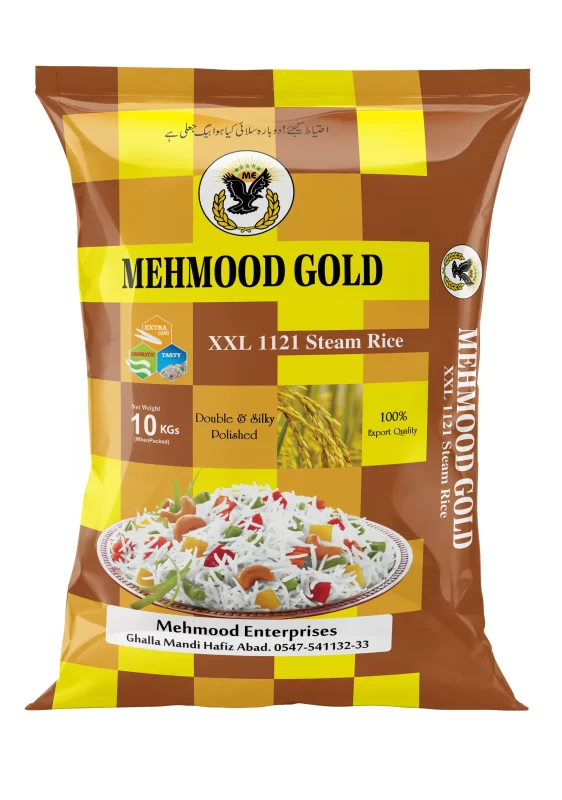 Each grain of Mehmood Gold XXL 1121 Basmati Steam Rice is exceptionally long, adding elegance to your rice dishes. The slender grains elongate even further upon cooking, making it perfect for special occasions and lavish spreads.
As you open the packet, you will be greeted by a delightful fragrance that will captivate your senses. The natural aroma of our basmati rice enhances the overall dining experience, making it a true feast for both the palate and the nose.
Our rice undergoes rigorous quality checks at every stage, from sourcing to packaging, ensuring that only the finest grains make their way to your table. We adhere to strict quality standards to guarantee your satisfaction and trust in our brand.
Our steam rice is renowned for its fluffy and separate texture, ensuring that every grain is perfectly cooked and distinct. Whether you're preparing biryanis, pulaos, or plain steamed rice, Mehmood Gold XXL 1121 Basmati Steam Rice guarantees a delectable outcome.
Indulge in the rich, delicate flavor of Mehmood Gold XXL 1121 Basmati Steam Rice. Its subtly nutty undertones complement a wide variety of dishes, making it a versatile choice for both traditional and contemporary cuisines.
Mehmood Gold XXL 1121 Basmati Steam Rice is pre-steamed, reducing the cooking time and effort required. Enjoy a hassle-free cooking experience without compromising on the taste or quality of your meals.
Basmati rice is known for its low glycemic index and high nutritional value. Our Mehmood Gold XXL 1121 Basmati Steam Rice retains these natural health benefits, making it a wholesome choice for health-conscious individuals and families.
For Orders and Quotation Contact Us
We will answer any questions you may have about our online sales right here. Monday to Thursday from 09:30 to 19:00 UTC +5
Do you have questions about how we can help your company? Send us an email and we'll get in touch shortly.